School management software is the easiest way of managing school operations and it provides the best admission experience to the parents and students. One of the best things is that it keeps an accurate record & connects with parents and staff.
Managing a school is not an easy task, here we need a school management system software. This software is designed to help management with their daily and long-term tasks. According to GlobeNewswire, the school management system software market is forecasted to reach the $8.5 billion mark by the end of 2025. This is just for the USA's market; the global market will be double the size and has much more potential.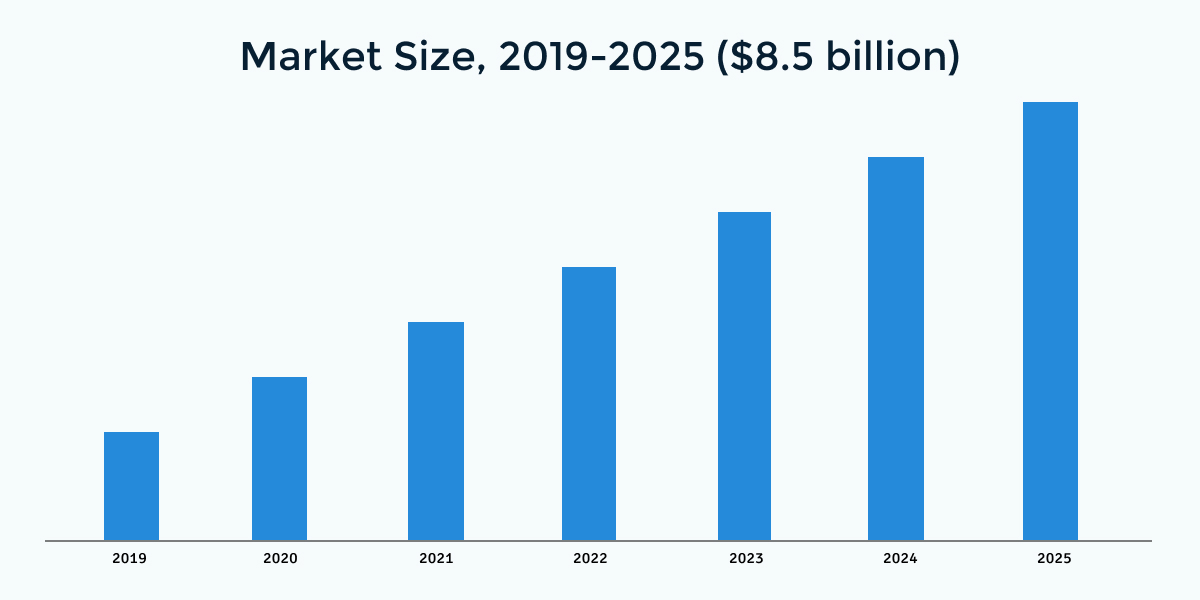 But the thing is, most schools are still unaware of this technology. Thus, this technology has a growing scope as well as for the schools.
How Does School Management Software Work?
School management software platforms are developed to fulfill the various day-to-day needs of school management. Here, this software work with academic as well as administrative work based around the school's operations. It includes attendance and fees payment, keeping the detail of every student, effectively. In a simple way, we can say that school management system software takes responsibility for day-to-day activities.
Features of School Management Software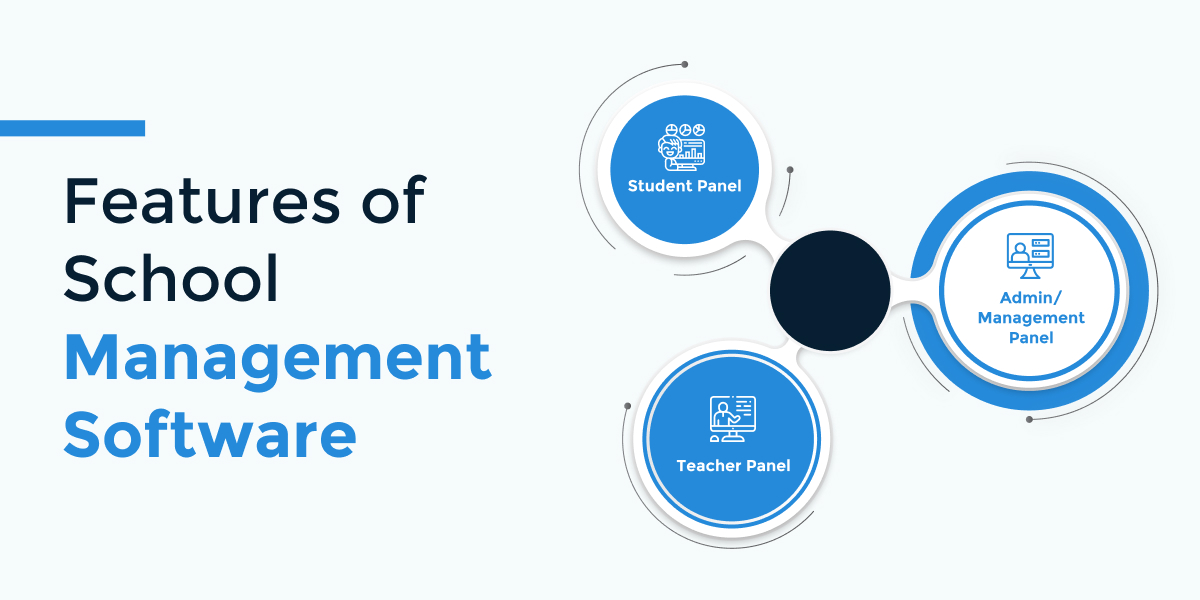 Features are the backbone of every software, which also includes smart school management solutions. If you are looking for school management software or an app, it is a perfect place to make your school management app, but you have to add some good features.
The first thing that you should know about this platform is that it can be divided into three different parts. These are
Student panel
Teacher panel
Admin/Management panel
Let's discuss this in detail
Student Panel
As the name suggests, this is specifically for the student. Here, there are multiple features involved and it handles a lot of school-related work. like-
It can update the Attendance
It allows Homework submission
The software has a feature for Assignment receiving and submission
Students can check the timetable
Leave application can be made via this software
Results can be checked by students
Real-time communication
These are the main features of the student panel. The fact is these features automate various tasks of a day efficiently and effectively.
Teacher Panel
The teacher panel is exactly what its name tells and it enables to simplify and do a lot of operations related to the student. It creates new activities-
Online school management software allows teachers to manage student attendance.
Teachers can approve or deny a student's leave application
This software allows to assign assignments to students and check submitted assignments
Teachers can update and modify time-table
Online notes can be uploaded by teachers
Real-time communication
Admin/Management Panel
Admin panel or school management panel is an important component of a school management solution. Alternatively, the admin panel offers superior management to school faculty to supervise all the activities.
Some quality features this panel provides to school faculty are -
The admin dashboard allows viewing all the different activities and information
Admin can check student and guardian detail via the software
The software also supports an effective fees management
Admin can look at the details of the teacher's performance
Also read: What is UAT (User Acceptance Testing): A Details Guide
Types of School Management Software
Different educational institutes have different needs. If you want to build a school management software, then you have to know about these different types of management software.
In this section, we will see the different types of school management software.
Free School Management Systems
There are lots of free school management software available on the internet. Also, it is known as open-source school management systems, these are open to everyone to use. Few of the popular free school management systems are -
Lightspeed Platform
MyClassCampus
G2 Deals
Org Education Cloud
OpenEduCat
Cluster
Vendor-Based School Management Systems
These are the different types of school management software. It is like half-baked solutions that are modified as per schools' needs. Vendors offer a lot of choices if it comes to modules and they also provide professional support which can be worthy deals based on school management's requirements.
Custom School Management Systems
Custom school management software is one of the best deals in the bunch. Here, as the name implies, you get custom school management software and it is completely built around your specific requirements.
This is a good choice if your school management has some unique requirements.
One of the main benefits of School Management Software is that higher-authority management can add features as per their requirements. This can help management to handle the future scenario or may be prepared in advance for upcoming events.
The Benefits of School Management Software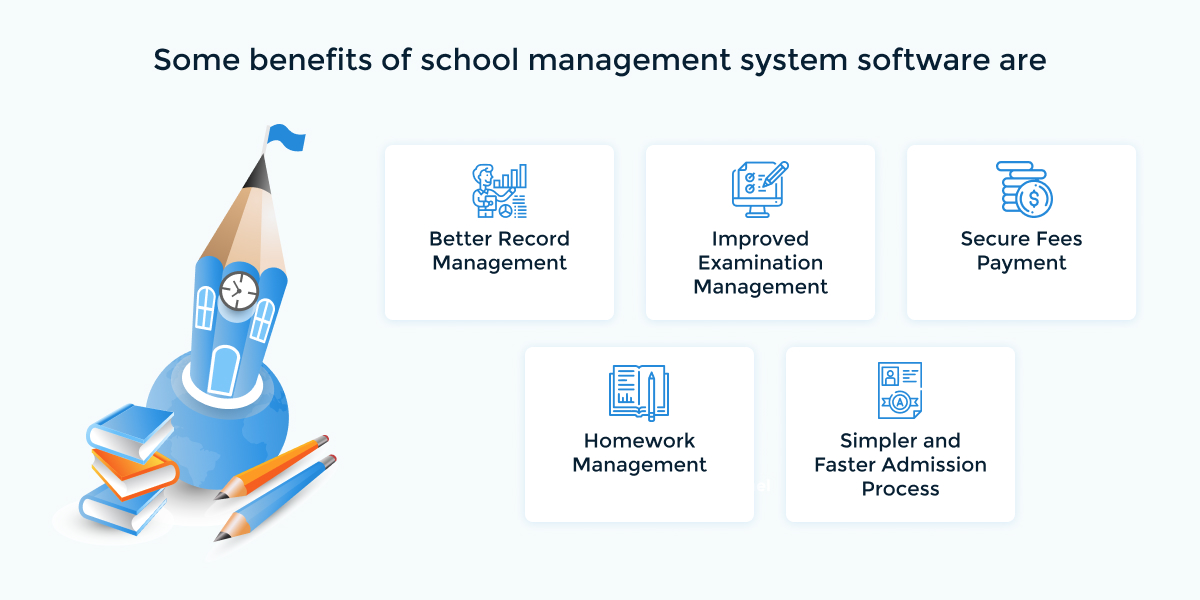 The top benefits of school management software providers to the school management are -
Better Record Management
There are lots of records if we talk about schools, it includes student grades, fees and every detail of student. And if we do it in the traditional manner, this would mean a lot of paperwork and document management.
Improved Examination Management
There are lots of stuff involved in the examination, but the primary goal here is to demote unfair tactics. A school management software solution can be effective here as you can trace the bad-doing and take quick decisions to prompt superior examination management.
Secure Fees Payment
School management software comes with payment gateway integration. It allows the guardians to pay the academic and other fees to the school via software. It is a quite beneficial feature for both school and the parents.
Homework Management
Using this software, teachers can draft, distribute, and manage student(s) homework with remarks and other features. Students can submit their homework, and teachers can access & also assign the same via the software.
Simpler and Faster Admission Process
School enrollment and administration software allow for a faster, simpler, and a lot smoother admission process. This feature highly improves many functions of the school management.
Also read: Kiosk Software Development- for Hospital, Tickets System & Retails Industry
Significant Steps To Design School Management System Software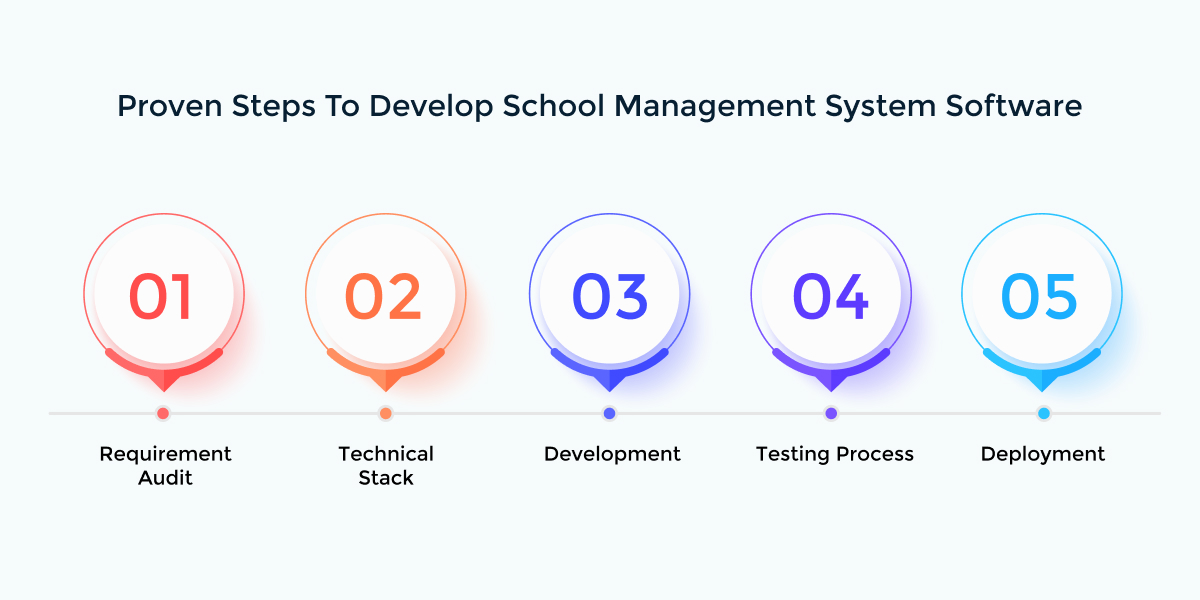 It is a common question. And, if you have the same question in your mind, you are at the right place.
There are many different steps involved in this, let's start with step one-
Requirement Audit
The first step is conducting a requirement audit. The audit process is manual in nature whereby a team is designed which analyse the requirements of the school management and noted them down. It is the information gathered here, that is used later down the development process.
Technical Stack
If you have decided what your needs and requirements are, it's time to decide upon a technical stack. You can say the technical stack is the core element that helps in the design and development of school management software. Generally, tech stacks are the frameworks, programming languages, and databases used to support the design and development phases.
Some of the popular development stacks are-
MEAN Stack Development
LAMP Stack Development
UI/UX Design
UI/UX design of school management software refers to the experiences that the school community may feel seeing the interface of the software. The suggestion to make school management software up-to-the-mark is to focus on creating a simple, easy-to-understand, and user-friendly interface keeping each aspect of the community in mind.
School Management Software Development Process
The process of school management software begins when everything is put together. Idea, blueprint, manpower, money, etc. The school management software undertakes the coding process. They will be developing everything to your specific needs and as per your needs.
Testing Process
The next step after the development process is app testing. To achieve the harmony of testing, it is put into a live environment where it is tested for errors and bugs. This step is important as it traces for any errors, or bugs, and provides a scope of improvement in-app. If any type of error is found during testing, it goes for the solution part. And after a successful testing result, the process moves to the next phase.
Deployment
Deployment is the last phase of school management system design and development that a developer may be involved in. In this, bespoke software is delivered to the client's requested method.
Also read: Real Estate App Development - Time, Cost & More
Cost of Developing A School Management Software
If you are developing school management software for a single platform cost lies around $10,000-$15,000 and for both iOS and Android platforms it will cost you around $20,000-$30,000. However, the school management app development cost can vary based on factors.
Some of these factors are
Features
Complexity
Size of the software
Location of the developers
Project specifications
Testing process
The aforementioned factors can affect the school management software experiences to a great extent. However, the cost depends on the type of solution you choose. On the off chance, free school management software is free of cost. Then the vendor-based and custom ones are more expensive in ascending order.
Conclusion
School management software is basically quite helpful for schools as it automates various day-to-day tasks. Based on the requirements, the school owner can develop a custom app and software for better school management.
Well, designing and developing bespoke software for school management is not easy at all. I highly recommend consulting some reputed and reliable school management software development company that will guide you in detail and help you achieve your software idea, precisely.
Found insightful
Get in touch with us to develop your own school management software. Request a free quote.